Defence & Security Equipment International 2017
Following the success of DSEI 2015, DSEI 2017 will host a plethora of international pavilions and feature areas for you to enjoy, with five key sector-focused zones: Air, Land, Naval, Security, Joint.
Why Visit?
DSEI brings together the entire defence and security industry to source the latest equipment and systems, develop international relationships, and generate new business opportunities.
DSEI 2015 was a major success with more exhibitors and educational content than ever before. Attending the event were:
34,038 unique attendees
1,683 global defence & security suppliers of all sizes exhibited from 54 countries
42 international pavilions
Why Exhibit?
DSEI is the world leading platform for innovative launches across the whole of the defence and security sector.  In 2015 DSEI welcomed over 34,000 attendees, 76% of which had direct influence over purchasing decisions.
This audience included 150 high level speakers from Ministers, Senior Defence Staff and leading industry figures, and 255 Official Delegations.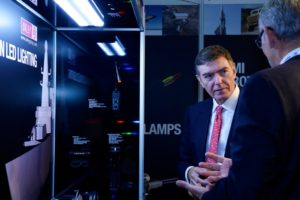 DSEI has a proven track record of bringing the entire supply chain together on an unrivalled scale.
More results from 2015:
2,874 VIPs from 84 countries
Visitors attended from 108 countries
MOD attendance grew by 62%
1,683 global defence & security suppliers of all sizes exhibited from 54 countries
42 International Pavilions
If your business depends on any of the following DSEI can deliver an audience to match your needs:
Create relationships in the supply chain – DSEI is the place to meet over 1,600 suppliers, from global companies such as General Dynamics and BAE Systems to Thales, Navantia, G4S, Airbus Defence and Space and Daewoo Shipbuilding
Defence and Space and Daewoo Shipbuilding
Win international business
Raise the profile of your company
Align your brand with current military requirements
76% of our visitors are involved in the purchasing process
The number, quality and diversity of the delegations visiting DSEI has long been a distinguishing feature of the event. The delegations include representatives of national governments, ministries concerned with defence and security, central defence staff, armed services and security agencies. They include top decision makers and influencers who are engaged in procurement decisions, identify future requirements or gaps in capability, shape future policy and develop operational strategies.
DSEI 2015 welcomed delegates from 121 countries, and had a record number of international delegations, Senior official visitors to DSEI represent the highest level within national governments, central defence staff, national armament directorates and armed services from land, sea, air and security.
DSEI 2015 was visited by:
Over 255 Official Delegations
In excess of 1,000 additional domestic and international delegations
VIPs, including members of Official Overseas Defence Delegations and DSEI Defence Ministers & Service Chiefs of Staff and guests of the organiser
150 high level speakers from Ministers, Senior Defence Staff and leading industry figures
Industry Visitors
Civil Service & Government
Exhibitor Personnel
Exhibitor Guests from Industry, Military and Government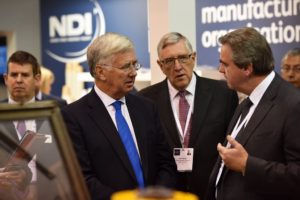 The event hosted the strongest ever attendance from UK ministers and the UK MOD including:
Secretary of State for Defence
Minister for Defence Equipment, Support and Technology
Minister of State for the Armed Forces
Minister for International Security Strategy
Minister of State for Trade and Investment
Lords' Spokesperson for Defence
Respective Secretaries of State for Scotland and Wales
The MOD also fielded a strong team, epitomised by the attendance of
Chief of the Defence Staff
Chief of Defence Materiel
First Sea Lord
Chief of the Air Staff, Air Chief Marshal
Chief of the General Staff
Chief of Materiel (Land)